News
3/1/05
The time has come for Ramona the Pest to go into a deep sleep...It's been an amazing 10 years! The three albums we are so proud of and the many, many fine shows we've done are are a testament to the fun we've had...Thanks to our fans for inspiring us and the many fine musicians we've had the pleasure of playing with.
Best of all, there's no end in sight for Val and Lucio's collaboration as they will definitely be appearing together on record and stage in the future. You can catch Val as the Staggering Siren and check on Lucio at Kingtone.com.
All of Ramona the Pests' music is still available on CD (although Cans of Worms is almost out of print!) and all our music is available on online through Itunes (worldwide), Mperia (great indie site) and Mp3tunes.com to list a few - so go download some music for your MP3 player!
We will continue to post some exclusive MP3 tracks from time to time and we plan to have some vintage Pest videos available on DVD and VHS soon, so please check back from time to time.
love-
RTP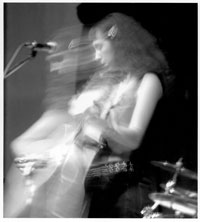 Val Esway (staggering siren.com)
Lucio Menegon (kingtone.com)