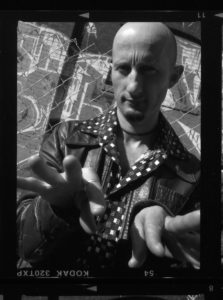 Lucio Menegon is a musician, composer and sonic artist. His work encompasses avant garde improvisation, ambient soundscape, film soundtrack and experimental rock. Born to Italian American parents and raised in the shadow of New York City, he has been playing professionally and on a DIY basis for over 25 years. His style is rooted in primitive Americana and punk, with extended technique and forays into minimalist textural spaces informing a fusion of traditional song structure and abstract modern soundscape. Masterful use of the guitar and electronics is augmented by lapsteel, various acoustic stringed instruments, electric bass, piano and drums. His process is decidedly analog – careful and chaotic manipulation of tone and timbre plays a dominant role in shaping this ever evolving sonic tapestry.
Lucio creates music for the stage, film, dance, theater and sound installation – most recently as a featured performer at the 2017 Stazione di Topolo in Itay. He has collaborated, improvised and performed with a wide range of creative artists including Luca Miti, Diego Mazzoni, Tomac Grom, Antonio della Marina, Lauri Hyvarinen, Danny Frankel, Ralph Carney, Jason Victor, Steve Shelley, Sandy Ewen, Emilie Lesbros, Pascal Niggenkemper, Richard Lainhart, Amy Denio, Glenn Branca, Rhys Chatham and Moe! Staiano! He has worked extensively as a sideman with songwriters Myshkin Warbler, Spain (Josh Haden), Victoria Williams, The Adobe Collective, The Renderers, Kim Boekbinder, Edith Frost, Joe Rut and Val Esway, and with SF based film makers Thad Povey and Al Alvarez.
Lucio is a member of the Immersion Composition Society, holds a degree in Economics, has a sharp eye for photography and loves a good story. He spends a fair amount of time in New York City, Joshua Tree CA and on the road.
short bio • works and credits (CV) • collaborations • praise • images