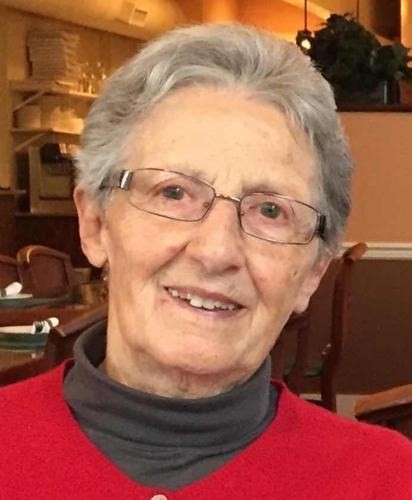 Lea Cesira Menegon, 93, of Branford, CT (formerly of Old Greenwich, CT) passed away on Tuesday, August 22nd.
Beloved wife, mother and grandmother, Lea was born on March 3, 1930 in the small northern Italian village of Tramonti di Sopra, the daughter of Giacomo and Angela Facchin and sister to Amalia, Rosina, Bruno and Adelchi. Lea met her life's love and soulmate, Ben (Benito) Menegon, as a young child in Tramonti, and they would become childhood sweethearts. Their lives were altered by WWII and they both left Tramonti to find work – Ben to America; Lea to Rome.
Lea was incredibly creative. Whether designing and sewing clothes, knitting, crochet, or any type of needlepoint or embroidery, she made the most wonderful things. While in Rome, she was most proud when her employer manufactured her design of a double-breasted sweater for boys, which became very popular. She eventually relocated to Paris where she studied French at the Sorbonne and put her formidable sewing skills to use in a boutique dress shop.
Though time and distance kept them apart, Ben and Lea never forgot one another – they always had a place in each other's heart. They reunited and were married at the American Church in Paris in 1962 and traveled back to America to start a new life in Greenwich, CT.
Always generous with her time, Lea volunteered at numerous school events, at Greenwich Hospital for 13 years as a 'candy striper' and then for an astounding 37 years at the Rummage Room thrift shop in Old Greenwich, where her sharp eye for clothing merchandising and pricing was highly valued. Her greatest pride and joy were her three children – Lucio, Lynn, and Lisa. A loving mother and wife, she held her household together with incredible cooking (the children's friends speak to this day of her pancake feasts) and much happiness. She was diligent about exercise, especially her brisk daily walks to downtown Old Greenwich and back (some called her 'the walking lady') and later around the Linden Shores area of Branford, where Ben and Lea relocated to be closer to their grandsons – Spencer and Sam.
She is survived by her husband of 61 years, Benito Menegon; her son Lucio Menegon; her daughters Lynn Menegon and Lisa Menegon Lovejoy (Ted) and her two grandsons Spencer and Sam Lovejoy. All who came in contact with Lea adored her. She was the light of Ben's life, and a kind, gentle soul who will be dearly missed.
A memorial service will be held at the First Congregational Church in Old Greenwich (108 Sound Beach Avenue) on Saturday, September 30th at 10am. There will be a livestream of the service will for those not able to attend.
In lieu of flowers, donations can be made in Lea's honor to The Rummage Room/First Congregational Church of OG.